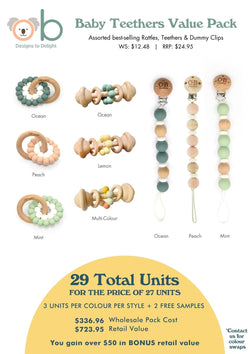 OB "Designs to Delight!"
Baby Teethers Value Pack
Sometimes you need some guidance about which Best Sellers to spend your money on and that's why we've put together these Value Packs. We want you to feel confident with the OB Designs range and discover for yourself which colours and styles work for your store and are best suited to your customer. 
These Baby Teethers are great sellers for many reasons but here's a few:
1. Food grade silicone, Sustainably harvest beechwood timber, Eco Friendly + Non Toxic. 
2. Suitable for 3 months plus.  
3. Silicone is soft on sore gums + the Beechwood is naturally antibacterial. 
4. There are gender specific and gender neutral options for all types of buyers. 
5. Affordable gifts for Babies + Toddlers for birthdays + Christmas stocking fillers.
This Value Pack Includes: 29 Units in Total plus over $50 BONUS Retail Value!  
Including 2 Free Items for Display or to make extra margin (because WHO doesn't love a freebie?)  1 x FREE Multi Colour Wooden Rattle + 1 x FREE Mint Teether Toy
9 x Teether Toys (3 per colour)
9 x Wooden Rattles (3 per colour)
9 x Dummy Clips (3 per colour)
Visual Merchandising Tip: Do a display with these Rattles near your counter in Baskets so customers can touch and feel them at the counter as a cheap and cheerful add on to their purchase. OR if you have a wall hanging system, you can hang sell them showcasing the variety of options. The natural packaging has a hang sell hole at the top making it easy for you to showcase this range. Pop all the stock out so it looks plentiful (which tells customers they are best sellers as you have multiples of them)