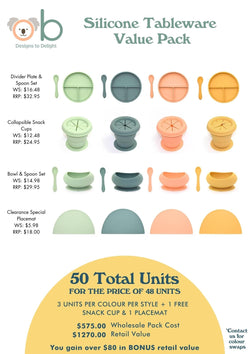 OB "Designs to Delight!"
Silicone Tableware Value Pack
Sometimes you need some guidance about which Best Sellers to spend your money on and that's why we've put together these Value Packs. We want you to feel confident with our products and discover for yourself which colours and styles work for your store and are best suited to your customer. 
These Silicone Tableware pieces are great sellers for many reasons but here's a few:
1. Food Grade Silicone, Non Toxic, BPA Free
2. Suitable for 8 months plus
3. Microwave & Dishwasher Safe (YAY!)
4. Each piece has a suction cup base (which means less spills!)
5. We've included gender specific and gender neutral colour ways so you can appeal to all types of buyers. 
6. They come in a great range of mix + match colours and are often sold in multiples as gifting. (A great recommendation for Family + Friends looking for a practical gift or for that 2nd or 3rd child that has "everything" already!) 
This Value Pack Includes 50 total units including the below saving you $80 in bonus Retail value! 
12 x Divider Plate + Spoon Set (3 per colour) 
12 x Collapsable Snack Cups (3 per colour)

12 x Bowl + Spoon Set (3 per colour) 

12 x Placemat (3 per colour)
1 x FREE Mango Placemat + 1 FREE Mint Collapsable Snack Cup (you really need to have this displayed in store so customers can feel the silicone texture, see how they work you'll sell A LOT more if you have it displayed out of the box) 
Visual Merchandising Tip: Do a display with this whole Silicone range together on a shelf / table with some items out of the box, stacked on top of each other and we have a strut card you can download showing this in a lifestyle shot if you really want to showcase this range to its best! Mix and Match colours to show how you can sell the matching combination or mix and match a couple of items.