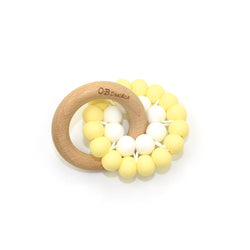 OB "Designs to Delight!"
Lemon Eco-Friendly Teether Toy
Our eco-friendly lemon wooden teether for babies is made of Sustainable Beechwood Timber & Food Grade Silicone. This is the best option over mainstream baby teethers, as they are eco-friendly, non-toxic, and free from harmful leads, metals, BPA, chemicals & phthalates. Silicone is a great sensory material and is soft on sore gums. Beechwood is naturally anti-bacterial, making it a safe teether for babies. As a sustainable baby store, each one of our baby products is made with your baby's best interest at heart.
COLORS:
Available in 4 colour choices: Mint, Lemon, Ocean, Peach
DETAILS AND SPECIFICATIONS:
Suitable for Ages 3m+
Made from 100% Food Grade Silicone and Sustainably Harvested Beechwood Timber
Made by a Sedex audited Manufacturer
8 inches long

CARE INSTRUCTIONS:
Wipe clean with a damp cloth when necessary. Do not immerse in water or use cleaning products. Do not sterilize, boil or place in a dishwasher. Air dry after cleaning, store in a clean dry place. Discard after 3-6 months.
SAFETY:
OB's products are made to the highest standards, however if used incorrectly and breakage occurs, they may become a choking hazard. Please check before each use and discard at the first sign of wear. Do not alter in any way and always use under adult supervision. Rinse toy under warm water before first use.
This product has been independently tested. It complies with the mandatory safety standards for Toys under 36 months AS/NZS 8124 and USA ASTM.

Made in China. Designed in Byron Bay, Australia.