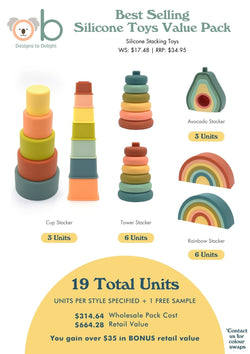 OB "Designs to Delight!"
Silicone Toys Value Pack
Sometimes you need some guidance about which Best Sellers to spend your money on and that's why we've put together these Value Packs. We want you to feel confident with the OB Designs range and discover for yourself which colours and styles work for your store and are best suited to your customer. 
These Silicone Toys are great sellers for many reasons but here's a few:
1. Food Grade Silicone, Non Toxic, BPA Free
2. Suitable for 8 months plus
3. Help encourage hand-eye coordination, creative thinking, problem solving skills, and improve dexterity and motor development. 
4. Great fun for stacking, playing with the colours, sizes and shapes + develop as the child grows e.g. A baby might just play with holding them. A Toddler will realise they can stack. A Pre-schooler will identify the colours and create shapes with them.
5. Affordable gifts for Babies + Toddlers for birthdays + Christmas stocking fillers.
This Value Pack Includes 19 units of stock with over $35 in BONUS Retail Value! 
3 x Avocado Stackers
3 x Cup Stackers (choose between Square or Round Stacker)
6 x Rainbow Stackers (Super Seller - choose between Cherry or Blueberry)
6 x Tower Stackers (Super Seller - Choose between Cherry or Blueberry)
1 x FREE Rainbow Stacker for Display (you really need to have this displayed in store so customers can feel the silicone texture, see how it stacks and you'll sell A LOT more if you have it displayed out of the box) 
Visual Merchandising Tip: Do a display with this whole stacking range together on a shelf / table with some items out of the box, boxes stacked on top of each other and we have a strut card you can download showing this in a lifestyle shot if you really want to showcase this range at its best!